Windows 7 RC is creating lot of positive buzz. If you are interested in checking complete details of DLL files contained in Windows 7 – headover to Win7dll website. This website contains exhaustive information on DLL files located in system32 directory of Windows 7 operating system. You can browse DLL files of your choice using alphabetic listings.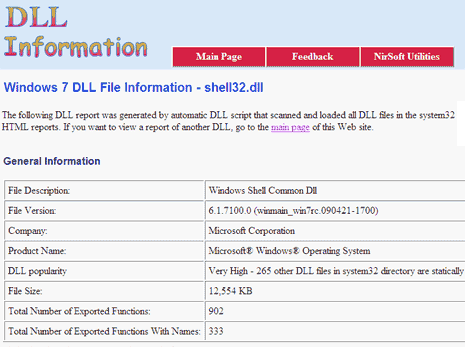 Each file details contain information like: version information, product name, company, file description. It also show how many DLLs are linked directly to a file as a part of DLL popularity and list of files that are statically linked to the specified file. You can also view summary of resources stored in the DLL including: icons, bitmaps, cursors, dialog-boxes.
You view icon and cursor thumbnails stored in specific DLL file. Each file listing also reveal details of string information, list of dialog-boxes captions, Static Linking. To get started, you can check homepage listing of top 10 DLL files with largest number of icons, cursors, bitmaps, string resources and dialog boxes. For heavy loaded technical information on DLL files in Windows 7, checkout Win7dll website – worth a bookmark and reference!