Every image has embedded EXIF, COM, IPTC tags that hold basic information about specific image including: aperture, shutter speed, ISO value, camera model, focal length, time and date. Meta Stripper is a free portable tool to remove and clean images from such tags quickly in a batch mode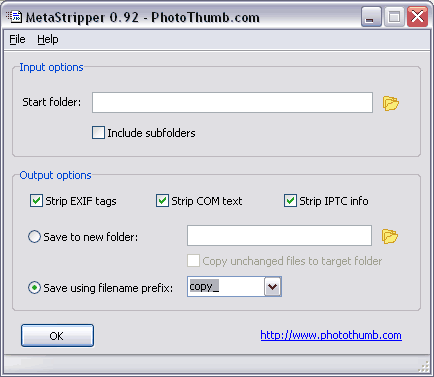 Features of Meta Stripper tags remover
1. Specially remove EXIF, COM or IPTC image tags.
2. It is completely lossless, no decompression of image happens.
3. It does not overwrite your original image files.
4. It assigns unique name to all modified files with removed meta tags.
5. Process large number of files by selecting folder containing images.
Related – See EXIF tags of images with free Viewer software
Above all, meta stripper is a portable tool – just download, unzip and launch the application ready for use. Download Meta Stripper, one easy and quick way to remove meta tag information from images.