Besides the main content, evey webpage consists of other elements like advertisements, images, formatted tables, columns and much more. Printing webpage in original format does not produce result for easy reading. Also, it leads to unnecessary wastage of printer ink and paper. Printliminator is a handy bookmarklet that makes life real easy printing any webpage nealty.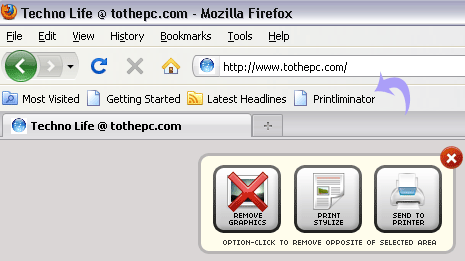 Remove formatting & print neatly with Printliminator
1. Goto Printliminator webpage.
2. Drag the Printliminator button to bookmarks bar of browser.
3. Open the webpage that you want to print.
4. Click the Printliminator bookmarklet button.
5. Then click to select any part of webpage, press delete to remove it.
6. Remove all unwanted stuff from webpage with select, delete routine.
Once you are done with removal of unwanted formatting, you can quickly print off the main content easily. One easy and super quick way to print any cluttered webpage neatly with simple click of bookmarklet button. Checkout more useful bookmarklet to perform tasks with ease.