Facebook keeps changing privacy settings after every few days. With huge list of existing privacy settings, configuring them wastes lot of time of an average Facebook user. As a result, many Facebook users tend to ignore them and do not bother to configure privacy settings. Now you can reset Facebook privacy settings in single click and make everything private "Friends Only".
Use SaveFace bookmarklet to reset settings

1. Goto SaveFace webpage and add bookmarklet to your web browser. Firefox, Chrome, Opera users can drag the bookmarklet link to their bookmarks bar. Internet Explorer users need to right click the bookmarklet link and then click "Add to Favorites".
2. After adding SaveFace bookmarklet, open Facebook.com and login into your account.
3. Once you have logged in, click SaveFace bookmarklet link. It will automatically reset privacy settings and make them private to "friends only".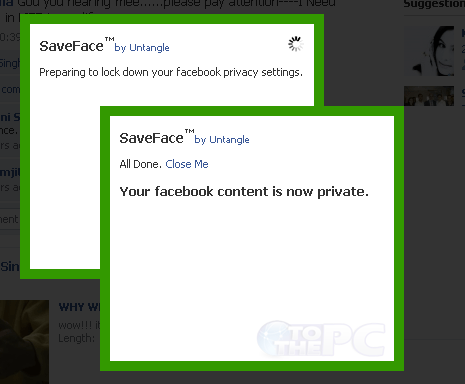 SaveFace sets your privacy settings back to Friends Only including: contact information, search settings, friends, tags and connections, personal information and posts. For sure one quick and easy way to make changes to settings using quick browser bookmarklet.
Incase you prefer manual way to dive into Facebook privacy settings mess, then after login goto Account > Privacy Settings and get amazed at things you need to configure! [via Instant Fundas]