Besides the textual interaction via chat, walls posting, Facebook users share tons of photos each day. There are number of ways to upload photos via  email and organize them in proper galleries. No wonder Facebook hosts more photosthan even a top dedicated image hosting website. If you are also hooked to sharing photos on Facebook, then check Picnik Facebook app for easy editing, re-touching of uploaded images.
Retouch, crop Pics with Picnik Facebook app
1. Open Facebook.com & login into your Facebook account.
2. Open the Picnik app page & click 'go to application' button on the left. Then click  Allow button for app usage.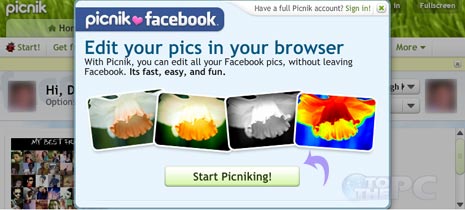 3. Then click 'Start Picniking' button (you do not need picnik account for basic editing). Some premium feature require Picnik account.
4. Under 'Library' tab select photo that you want to edit. You can make selection from your own Facebook photos or that of friends.
5. Then goto 'Edit' tab for basic editing like auto fix, rotate, crop, resize, exposure, colors, sharpen, red eye.
6. 'Create' tab has advanced effect (most of these are premium options).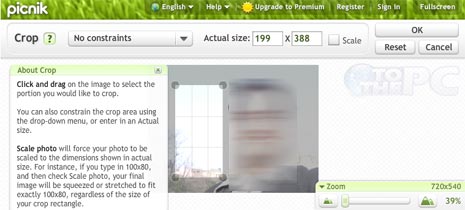 7. Once done with editing, goto 'Save & Share' tab to save the edited Facebook photo. Retouching Facebook photos, the super easy way – what say?