Are you tired of opening and logging into Facebook website just to chat with Facebook friends? Well, you can chat away with Facebook friends without using web browser or need to login into Facebook website using third party chat tools. You can launch these chat tools, login into Facebook account and start chatting (just like we chat on Yahoo Messenger or Google Talk).
1. Chit Chat for Facebook IM application
Chit Chat for Facebook is a free instant messenger for Facebook chat. Using this IM tool you can chat with Facebook contacts from the desktop without need to open web browser (and login into Facebook website).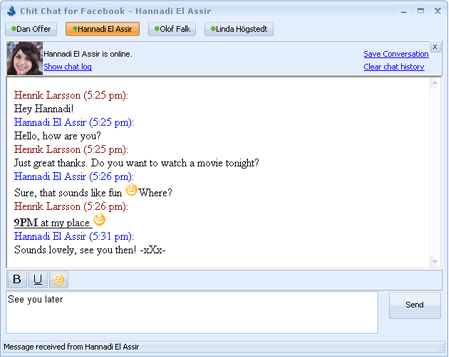 After download & install, login using Facebook account details and you are all set for Facebook chat session. It has easy to use interface and allows instant message notifications.
2. Use Pidgin client for Facebook chat

You can also use Pidgin multi messenger client software to chat with Facebook contacts. To get started, download Pidgin client and then download Facebook chat plugin for Pidgin.
After installing pidgin client & Facebook plugin, you are all set for Facebook chat from the desktop. [Tip – Be IM Power user & save time]