We have seen 5 ways to disable Facebook Lite version. However, for few users even those 5 ways did not work to switch from Facebook Lite to Facebook Regular. Looks like, Facebook finally saw tears of Facebook users frustrated at not being able to switch back to Facebook regular from lite verion. Here is official way to switch to regular version, if you are still stuck in Facebook lite version:
Switch to Facebook Regular from Lite version
1. Goto Facebook.com and login into your account.
2. Click on "Settings" icon next to search box (as seen in screenshot).

3. Then click "Default Site" option or directly go to this URL http://lite.facebook.com/settings/defaultsite/
4. Select Facebook Regular and click Save button.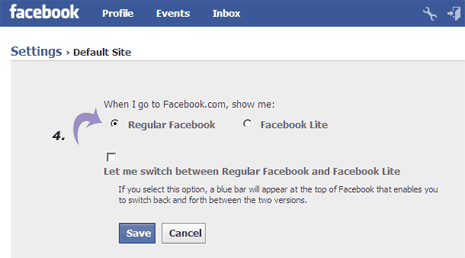 Note: you will only see above options while using Facebook Lite. Alternatively, if you want to make quick switch from Regular Facebook to Lite version, just use URL http://lite.facebook.com and login into Facebook account. Above procedure ensure easy switching between regular and lite Facebook versions – take your pick!