Facebook is very interactive social networking medium. Besides sharing photos, videos, messages – Facebook friends also chat using online Facebook chat feature. Whenever you login into Facebook account, chat bar pops up at the bottom right. Using that you can chat with any online Facebook buddy and make sure you delete chat history after the chat session is over.
Remove chat history of any Facebook friend
1. Login into your Facebook account and check Facebook chat box at bottom right.
2. Click 'Chat' button on the chat bar to expand it into box.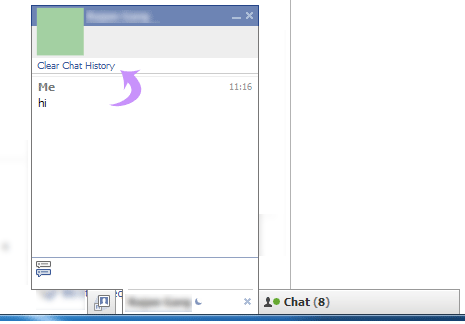 3. Then click on specific friend for deletion of chat history.
4. In the Facebook chat box click 'Clear Chat history' link to delete chat history.
You can delete chat history of different Facebook friends using above procedure and clicking 'Clear Chat History' link in respective chat boxes. Please note, this will not delete Facebook chat history if you were chatting using desktop client software for Facebook chat instead of Facebook website.