Facebook had lot of attention due to 'not so private' privacy controls in recent times. It has now rolled out new interface to manage Privacy Settings of your Facebook profile. Newer interface allows easy viewing of which part of the profile is being shared with which group of Facebook buddies including: friends, firends of friends or everyone.
Configure Facebook privacy settings quickly
1. Login into your Facebook account and goto Account > Privacy Settings at top right.
2. Then click "Friends Only" button on the left and click 'Apply these settings' button at bottom right. Now all aspects of your Facebook profile like photos, personal info, email ID etc will only be shared with your friends.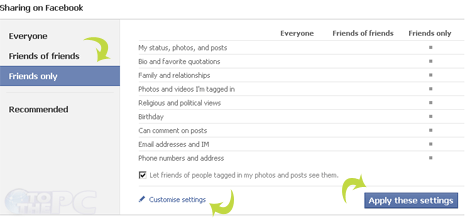 3. Setting to "Friends Only" keep your Facebook content safe from being exposed to people you do not know on Facebook. However, you can set "bio and favorite quotation" content public – click on "Customize settings" and set "Everyone" next to bio option.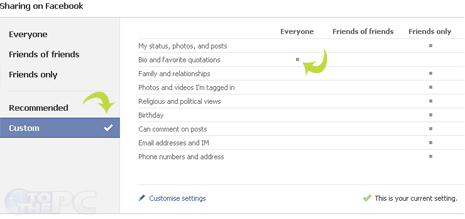 4. After making above change, a new option of "Custom" will appear. It will show all Facebook profile contents set to "Friends Only", except bio set to "Everyone".
Facebook's 'Recommended' settings – stay away!
New Privacy settings also has recommended settings option, which looks lame (via techPP). Looks like Facebook wants to push users to only keep least amount of content private. 'Recommended' settings can expose your profile contents as only: comments on posts, email ID, IM, phone number, address is set to private 'Friends only'.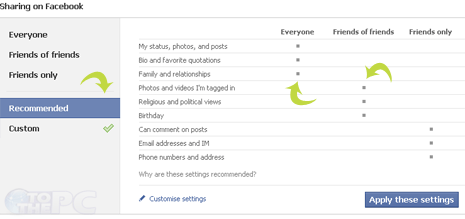 Configure settings of your Facebook profile wisely. If you are comfortable using bookmarklets, then use SaveFace browser bookmarklet. It can reset Facebook profile settings to private 'Friends only' in single click.