Do you love to share favorite webpages and online content with friends on Facebook? Facebook Like, Recommend and Share buttons are quick and easy way to do so. For Facebook haters, there is an extension to remove Facebook like button widgets in Google Chrome while browsing internet. On the contrary, you can have more Facebook sharing love and functionalities by using official Facebook's Chrome extension.
Download 'Facebook Like button' extension for Chrome
1. Open Facebook Like button extension webpage in Google Chrome browser on your computer. Click 'Add to Chrome' button for automatic download and installation.

2. Once install is complete, you will notice Facebook Like button at top right part of Chrome menu bar. To use this, open any webpage and click Like button on menu toolbar. You will get prompt for Facebook Login into your account (if not already logged in).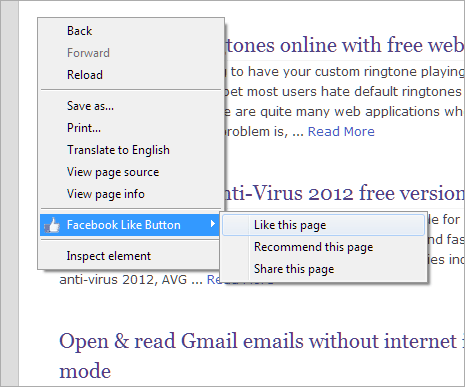 3. There are also right click context menu option for using Facebook Like button functionality. Right click on any webpage, goto Facebook Like Button > Like this page option.
4. You can use Recommend webpage option from the right click menu. This will bring small pop-up window at bottom right part of the Google Chrome window. You can also change the default position of this floating window, click on settings icon and goto Choose Position option.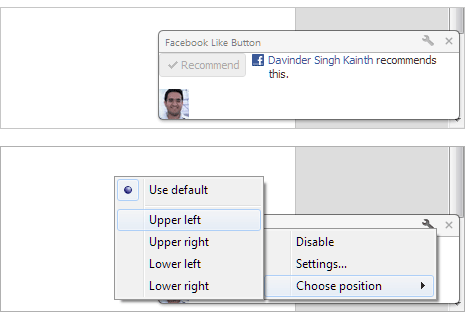 5. Share webpage option is also available in right click context menu. This will pop-up window where you can write custom text and share it with friends on Facebook by clicking 'Share Link' button.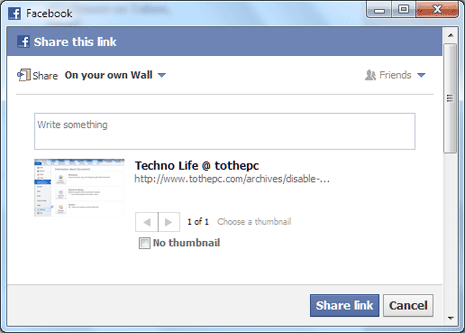 So, if you love sharing online content will Facebook friends and use Google Chrome as default browser – then this official Facebook extension make things all easy and quick.