Ever wanted to split window or tab of your favorite web browser without having to download or install any additional software? Well, here is bookmarklet link which you can add to favorites and allows you to split any browser tab or window in a single click. You can surf two different websites in same window or tab using this bookmarklet 'Google Chrome Dual View'.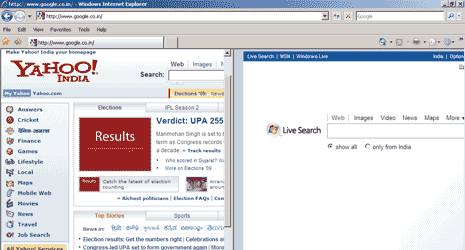 Related: Split Firefox window – try WinSplit Revolution
Even though name has Google Chrome, this works fine in Internet Explorer, Firefox, Google Chrome and Opera. To get started, darg the bookmarklet link to your bookmarks. If using IE, right click on the link, then click add to favorites. In pop-up window select 'links' folder and then click add button.
Click on this bookmarklet link, you will get a pop-up window where you can enter the URL that should be opened in left pane of split window. In second pop-up window, enter second URL that should appear in right pane. Grab Google Chrome Dual View bookmarklet and surf two websites in the same window or tab with ease.