Do you want to work simultaneously with contents on multiple windows? One options is manually resizing windows on desktop and try real hard to fit them on desktop screen. Other easy way is using cool utility MaxTo that divides desktop screen in multiple regions. Whole screen will be like a user defined grid with each region displaying separate window.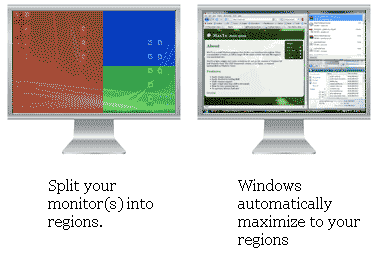 Related – Split Firefox Browser Window, Interested ?
When a window is maximized it only covers the regions defined on the grid and not the whole screen. You can easily change or move regions on grid using shortcut keys. It also supports multi-monitor windows and works fine on XP, Vista (32bit & 64bit) computers. Download MaxTo to take maximum advantage of available screen space and perform tasks quickly. Alternatively, you can checkout WinSplit Revolution.