Is printing cost as a result of high paper and ink usage going up? Want to track who, when, what was printed using specific printer at your place?
PaperCut Print Logger is a small free application to keep track of printer usage. It is a free print logging application for Windows systems designed to provide real-time activity logs detailing all printer use.
Using this, you can track number of print job attributes including: time of print, name of the user who printed, total number of pages printed, document names and titles, paper size, color mode and lots more.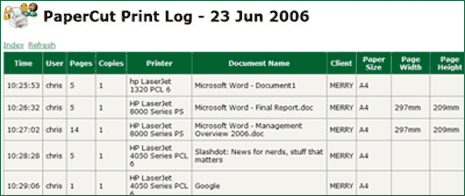 Logs can be viewed in HTML format in your web browser. Besides, you can export logs in CSV or Excel format for advanced data analysis.
Download PaperCut Print Logger [link] application and keep track of your printer usage. It works fine on Windows and is available in English, French, German, Italian and Spanish. Handy and very neat!