Printing online webpages can be a confusing task for an average user. Here is the case, you have final webpage that should be printed but there is no printer connected to that computer. You need to save that final "ready for print" webpage as document file and then transfer it to computer with attached physical printer. Majority of 'ready for print' webpages do not have standard feature to save or download webpage as document file. You can easily resolve this by using free "virtual printer" software.
Paperless Virtual Printer to save webpages as files
Virtual printer program allows you to easily save 'ready for print' webpage as document file. Then you can easily print through saved document file. Paperless Printer is a free program that support number of file formats including: PDF, EXCEL, DOC, HTML, TIFF, TXT, PS, EPS, PNG, JPEG, BMP, PCX, PSD, PCL, RAW and SVG.
1. If you are stuck at a webpage that only has print option with no save or download option. Keep that webpage open and quickly download Paperless Printer software. It is free for personal use.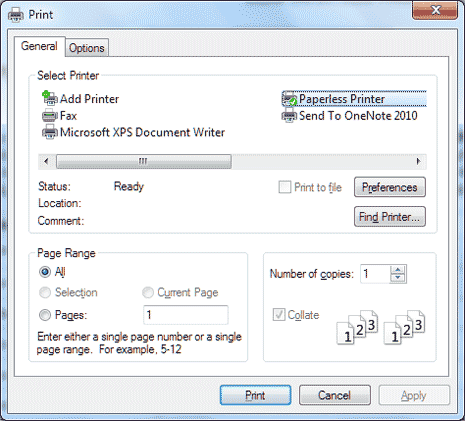 2. After you install this program, open that webpage 'ready for print'. Click on Print button or press Ctrl + P keys to bring up the print box. Click to select 'Paperless printer' option from 'select printer' section.
3. Then click Print button, this will launch Paperless Printer program. Select file format to which 'ready for printer' should be saved and click OK to continue. It also support "Google Cloud Print' service.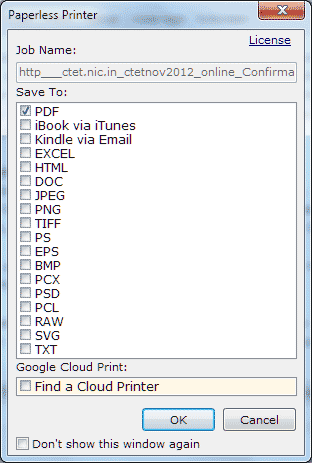 4. Then you should see Save dialog box with Folder Name and File Name of the saved document file. Click OK button at bottom to finally save the file. Once file is saved, folder containing saved file should open automatically.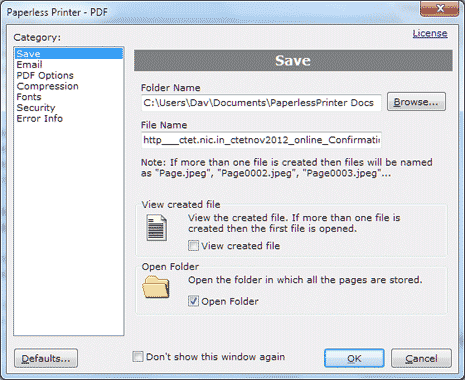 This program preserves the exact look of contents of the original webpage including original graphics, images, styles while saving in the form of document file. After file saving, you can copy saved file and transfer it to computer with actual printer connected to it for quick printing. This is an ideal solution when you need to save 'Ready for print' webpages on computer with no physical printer connected.