Sitting in front of computer can give you pain here and there. Palms, shoulders, fingers can give you real pain if working for long hours on computer. Well, here is some relief in the form of USB Massager.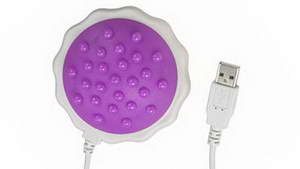 Simply, plug it to any USB device and get a cool and relaxing massage without leaving your computer. No external power source is required, as it draws power from a USB port on a computer.
Best used on your lower back and between your shoulder blades. The Pink USB Massager has a one touch on/off switch, a textured rubber surface. The Dimensions of the USB Massager is approx. 15cm x 6 cm x 20 cm.
So, to relax and work hard on computer simultaneously USB Massager is a good option. Priced at Approx. €10.28 or $12.58, not bad at all. Via boysstuff