Dell seem to be spending more time in making their computer and laptop more stylish. Dell Adamo is another introduction of sleak design from Dell – this portable looks really fab and comes at heavy loaded price of over $2000 US. While the design is amazing, there nothing exciting in technical specification of this portable.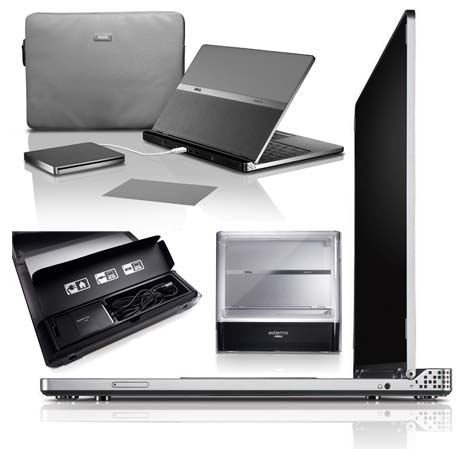 Related – Dell Studio Hybrid Desktop, When Dell got Stylish!
It comes with 2GB memory (max 4GB), Intel Core 2 Duo, 13.4-inch screen (16:9) with HD resolution, WiFi-n 802.11, Bluetooth 2.1, 3G Modem (optional), 2 USB 2.0 ports, SSD disks of 128GB, 1 eSATA port and DisplayPort. It has battery life of over 5 hours and comes loaded with Windows Vista Home premium.
Wish specs were little better and match the style (& price) quotient of this fab portable in town. Relish upclose looks at official Dell Adamo website.