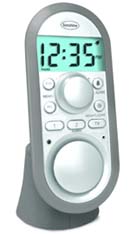 A robot in the form of a clock, well something similar. The Accenda Sunshine Alarm Clock Speaks and Listens to your commands. This Sunshine cutie can do loads of work for you.
You can set up to three different alarms, leave voice memos, use the built-in-night light, even turn on your TV. You can access these features at the touch of a button, or from the sound of your voice.
It can understand atleast 5 standard commands which includes: "What time is it?" , "Snooze", "Play memo", "Night light", "Replay Alarms". Well, snooze could be most used by those who just don't like getting out of bed. Other features include:
Displays time of day & day of week.
Voice activated nightlight.
Alarm clock remembers your alarm settings.
Alarm clock can be set with recorded messages.
Backlight display.
Trainable in any language.
Battery backup, operates without AC power.
This little cutie is loaded with number of features, though my favorite will be just saying snooze, snooze and snooze…. what say? [via]