Do you want to make crystal clear widescreen Skype video calls using your television? Now this is possible using HDTVs from Panasonic and Samsung. Besides the usual Skype software, you will need specially designed hardware along with high speed internet connection for making widescreen Skype video calls from the comfort of your sofa in the living room using HDTVs.
Requirements for Skype video call on TV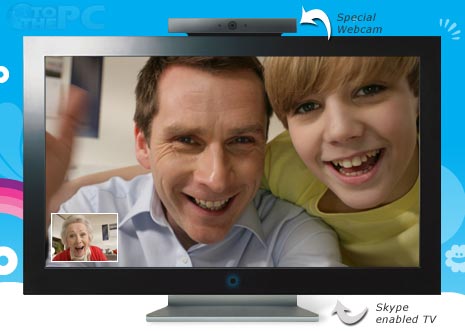 1. Internet enabled HDTV with Skype software pre-loaded. Skype-enabled TVs from Panasonic and Samsung should be available in spring this year.
2. Special webcam for your TV to make Skype calls. These are already available from Panasonic and Samsung. For example: Samsung Skype enabled camera can send high quality video at up to 1600×1200 pixels at 30 frames per second.

3. Broadband internet connection, it is recommended to have a 1Mbs symmetric broadband connection for the best possible video experience.
Skype enabled Panasonic TV commercial
Above is cool Skype on TV advertisement for Panasonic Skype enabled HDTVs. Checkout more information for Skype on TV from basic requirements to new TV hardware available from different brands to use Skype on television.