AvaCam is a handy application to get more out of your webcam with relative ease. It is a full featured WebCam tool to view your WebCam(s) or whatever video device connected to your computer.
It has easy to use interface to view and manipulate video captured by your webcam. It allows you to view vdeos full screen or any desired screen size. It supports auto save of pictures at any interval and view, print, copy and editing of captured stills.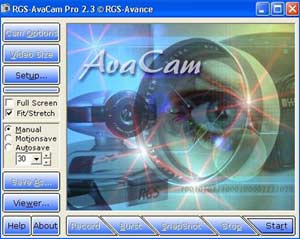 It allows you to record video and save them as AVI-files (using any compression available) to your computer. It can also be used with more than one video device.
Download AvaCam to use webcam with ease to record video, capture stills and lot more. It works fine with Windows 98, ME, 2000,XP.