Ideally if we write something on paper and want to share it on the internet – we need to scan it to convert into digital format and then share it. How about removing the scanning part and transfer notes on paper directly to the computer and internet? This is possible using piece of hardware called SmartPen from LiveScribe. You can write hand written notes, make drawing using the smartpen to directly convert them into digital format. Later, you can easily share digital notes on online services including Facebook, Google Docs, Evernote, mobile, send by email.
LiveScribe SmartPen: How it works
1. Write or draw anything on the paper using smartpen (physically it works like any other pen). While you write using smartpen, it records everything you draw on the paper.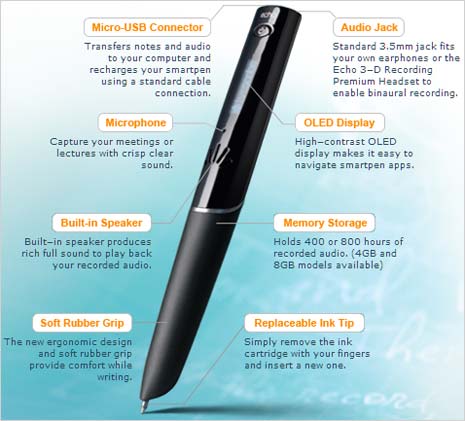 2. It also captures audio when you are making notes on the paper. Ideal for making presentations on the paper which can be converted into digital format easily for easy delivery and use.
http://www.youtube.com/watch?v=THMpMdmyX9I
3. Once you are done with writing and drawing on the paper connect Smartpen to your Windows PC or MAC system for the transfer. You will need to install Download Livescribe Desktop with Livescribe Connect software on your computer for transferring notes to the computer. Smartpen does not support wireless transfer, so need plug it using wire through USB connectivity.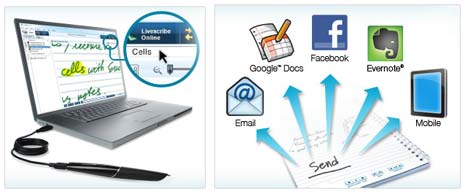 4. Once notes are transffered to the computer, you can directly send digital notes to friends on Facebook.You can also store notes on Google Docs and Evernote or email them or send to any mobile phone user.
This for sure is an excellent hardware for business users making lot of notes and presentation on day to day basis. No need to mess around clicking in powepoint, just draw with smartpen and speak the stuff you want – smartpen will make it all available in digital format quickly.
All the digital notes shared can be easily viewed in latest version of Adobe Acrobat Reader software. Neat, isn't it? SmartPen is available for purchase in different storage size variants including: 2GB, 4GB and 8GB sizes.[via LiveScribe press release]