Do you run lot of blogs and often tend to update them all? This can also happen even when one runs a single blog. Brompt is a nice web service to inspire you to post often.

Lack of updates on your blog with make 'Brompt'Â shoot you an email reminder to post. To get started you need to enter your blog RSS Feed URL and your email address.
Then select reminder period among 1day, 2days, 1week, 2weeks and so on. If you are really bad at acting on reminders, turn ON the nagging feature. This will send you repetitive reminder after a selected period of time.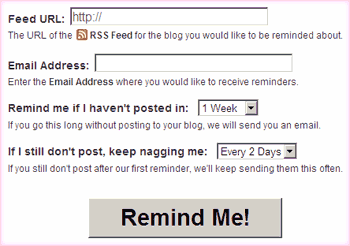 Brompt will send you a confirmation email with a unique URL from which you can edit or delete your reminder at anytime. Keep it touch with regular posting, Brompt is there for a little bump!