Facebook, Live Hotmail and Gmail are 3 very popular services used by number of online users. Do you want to import and access your Facebook contacts within Gmail or Live Hotmail account? You can easily do this by importing contact list from Facebook to Live Hotmail. Next step involves download Live Hotmail contact list with Facebook contacts and importing it in Gmail account.
Transfer Facebook contacts to Live Hotmail
1. Goto home.live.com & login into your Live Hotmail account.
2. Click to goto inbox of your Live Hotmail.
3. Then at top right click goto Options > More Options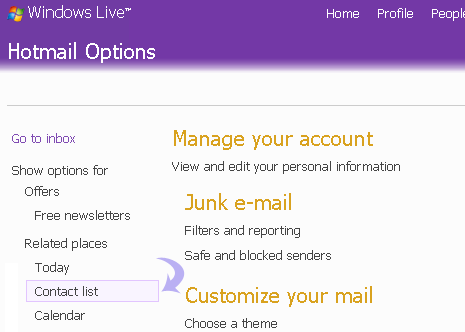 4. Now click 'Contact List' button on the left side.
5. Click 'See Suggestions' button under 'Your Network' option. Then click 'Add people you know from other social networks' on the next page.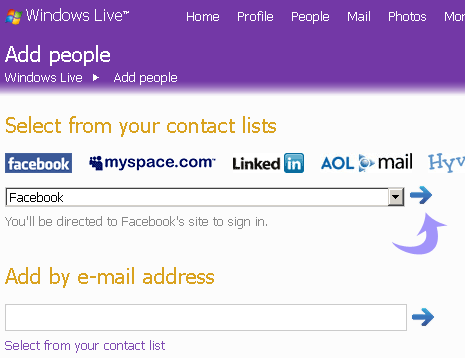 6. Select Facebook option & click arrow button. Then login into your Facebook account for authorization. All your Facebook contacts will be imported into Live Hotmail (this may take time, if you have lot of contacts).
Transfer Live Hotmail + Facebook contacts to Gmail
1. Within Windows Live Hotmail account, goto Options > More Options
2. Click 'Contact List' option on the left.
3. Then goto Manage > Export (at the top bar)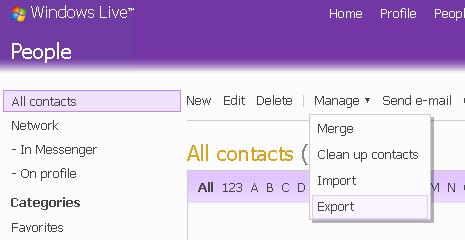 4. Enter the verification code & click Export button to download contacts file.
5. Now you can import download contacts CSV to Gmail account. Click Contacts on left menu, goto Import option and upload the contact CSV file.
Tip – Incase you want to prevent existing Live Hotmail contacts being imported with Facebook contacts to Gmail account. Just create a new Live Hotmail account for purpose of Facebook to Gmail contacts import.