Have you downloaded or exported contacts CSV files from any other web service or tool? Alternatively, you might have manually created a CSV file containing contacts for your email account. Gmail users can easily import upto 3000 contacts in the form of a single CSV or vCard file into their Gmail email account.
Import contacts CSV file into Gmail
1. Goto Gmail.com & login into your account.
2. Click 'Contacts' link on the left sidebar of Gmail inbox.
3. Then click 'Import' button at top right.
4. Click 'Browse' button & select CSV or vCard file containing contacts on your computer. Optionally, you can import contacts into new or existing group for easy management.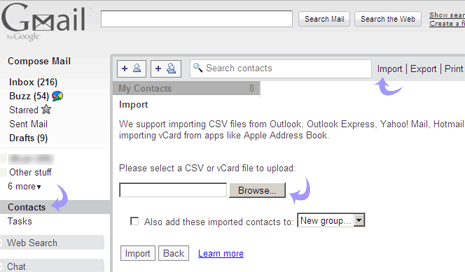 5. Click 'Import' button to start contacts import process. Contact import routine is fairly quick. However, you may have to wait for contacts import to complete if you are trying to import 1000s of contacts.