Bing search from Microsoft made all the right buzz for its glitzy and very cool daily background image wallpapers. Now you can do similar (officially) on Google homepage. New feature allows you to add and display background wallpaper image on Google homepage instead of usual all white plain background.
Add & change background image on Google homepage
1. Goto Google.com and login into your Google account.
2. Click 'Change Background Image' button at bottom left part of Google homepage.
3. Then select image for displaying as background from public gallery or from your Picasa photo albums. You can use images with minimum 800X600 resolution of either format: JPEG, TIFF, BMP, PSD, RAW.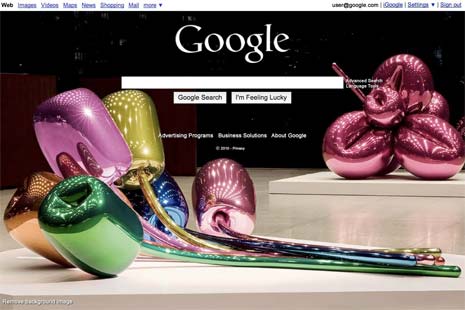 4. After making photo choice, click Select button to display that image as background wallpaper on Google search homepage. [via Google Blog]
Don't see the above option? Google will be rolling out this feature in coming weeks in phased manner, you should see that option very soon. In the meantime you can do similar in Firefox using Google Background Changer plugin.
Also, you can play around and change default Google logo with any colorful Google doodle in Chrome browser. Google homepage, no longer plain white boring – what say?