Google+ Plus service from Google has almost every important functionality, as seen in Facebook. Even though basic layout of Google+ Plus is similar to Facebook, few things are still different as far user interface is concerned. Facebook loyalists may find it hard to feel home using Google+ Plus service. You can address this concern to some extent by tweaking Google+ Plus interface look more like Facebook. In more simple words – how about using Google+ Plus in look and feel of Facebook website?
Facebook+ Chrome extension to change Google+ look
Technically skinning the exact look of Facebook for Google+ Plus is difficult. However, we can change few basic elements to make Google+ Plus resemble Facebook.
1. Open Chrome browser and then install Facebook+ extension. After install, refresh Google+ Plus website to see it in Facebook colors.
2. It adds background color to tap navigation bars similar to colors on Facebook. It also replaces the Google+ logo and makes look white against the dark background.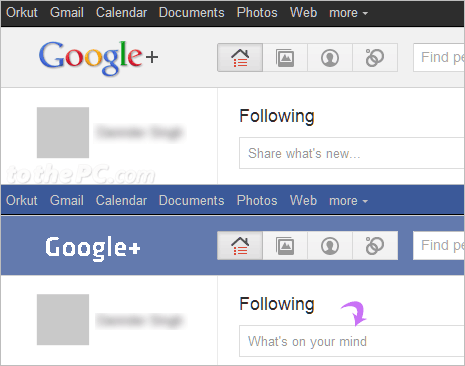 Comments section get light background color, just like we have on Facebook comments section. "Share what's new" in top box is replaced by "Whats on your mind" as seen on Facebook. With these changes, you can get feel of Facebook interface while exploring all new Google+ Plus website.
So, are you ready for Google+ Plus look change to Facebook for giving it test drive? Or you still love using Facebook and will give Google+ Plus a miss?