Bing Search website opens up with a fresh background photo daily. While Bing search results may not be that cool, background photos are for sure very cool. We have already seen method to copy and download those cool looking Bing homepage wallpapers. If you are still missing the daily fill of vintage Bing search homepage photos, checkout collection at BingHomepages.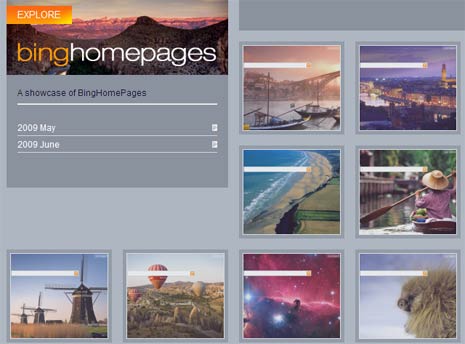 Related: 10 Bing Search Tips – Official Bing Ringtones
Website has screenshot of Bing homepages from the launch day. You can browse Bing photos date-wise with complete description of photo gracing Bing Homepage. Bing Homepages is another cool resource for Binger to bump into. If you want Bing photos without the Bing logo and search bar – read this guide, quick and easy! [Thanks Michael]
UPDATE – There is another Bing Homepage photos collection at istartedsomething, checkout Bing Image Archive – very neat and tasty downloadable Bing images!