Gmail keeps getting better, recently it went colorful with introduction of official Gmail themes. After the look and glitz, Gmail gets better in terms of functionality. Now, you can access Google Docs within Gmail.
Yeah, no more hopping between Gmail and Google Docs interface. You can do lot more that just see list of Google Docs link in your Gmail account. After you enable Google Docs gadgets, by default recently accessed documents will appear in a box on the left sidebar.
You can configure the contents of the Google Docs box on Gmail sidebar using 'show' button. It also support 'drag and drop' of any Google docs file into email you are composing. Link to specific doc will appear in email automatically. There is also a search button to dig out old Google Docs.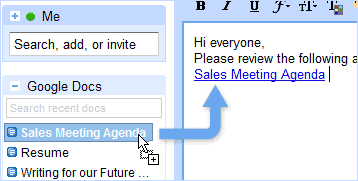 HOW TO ENABLE GOOGLE DOCS GADGET IN GMAIL?
Login into Gmail, click on settings button located at the top. Then click on 'labs' tab, then scroll down and look for 'Google Docs gadget'. Select enable and click on save changes button.
This is very useful feature for frequent Google Docs users. Now, no more hopping between Gmail and Google Docs – do the maximum in Gmail, isn't it?