Now you can save, manage and reload multiple sessions or browsing instances in Google Chrome browser. This is possible using Session Saver Chrome extension. After installing this extension – while browsing you can click the save button on the bottom toolstrip and name the session containing specific opened URLs. Similarly, you can save multiple sessions and load them in Google Chrome as and when you want.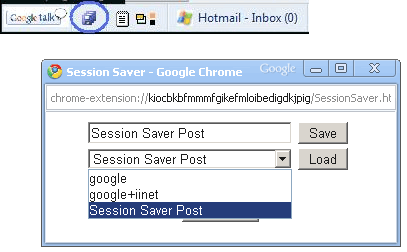 Related – Hotmail email notifications in Google Chrome
Features of Session Saver extension
1. Save Multiple Sessions and name them as you want.
2. Saves All the open tabs across all Google Chrome Windows.
3. View urls in a saved session prior to opening.
4. Loads URLs from saved session in current window in different tabs
Download Session Saver Chrome extension, it only works with developer version of Google Chrome browser. Session management for sure will find favor with many Chrome users.