Calling feature has been there for a while allowing you to make voice calls in Gmail. Till now we could only make, receive and handle one call at a given time. Google has added support for multiple call handling during voice. This does not imply, that you can talk to two people at same time like in conference call. Instead, it is more like call waiting feature – where you juggle between either of two calls by placing one call on hold and resume with other call which was previously on hold.
Using 'Hold & Resume' for multiple calls in Gmail
1. You can make two calls at the same time. For example: while talking on one call, you can start another call. Your first call will be put on hold and you can talk on the new call. Further, you can use resume button to get back to old call and put the new call on hold.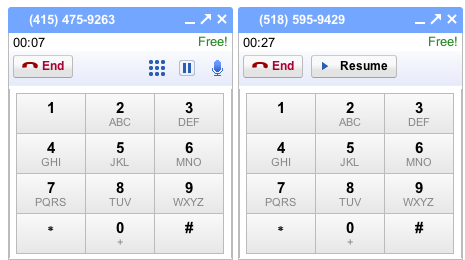 2. Similarly while receiving calls, you will get notification for second incoming call. If you choose to accept it, your current call will be put on hold while you talk on the new call.
3. Besides the multiple call environment, you can also use hold and resume functionality during single call. You can put any single call on hold and resume it anytime as per requirement.
This for sure makes calling more useful in Gmail. Hold and Resume feature works across different type of calls including: video, voice and phone. [via Gmail blog]