Gmail loves to experiment with new features now and then. Recently, Goggles feature was introduced to prevent drunken emailing. Here is more sane (& new) Gmail feature 'Canned Responses'.

Are you tired of writing and sending same reply again (& again)? For example: "… I am out of office and will catch you ASAP." No need to type such messages multiple times, just 'can' then using 'Canned Reponses' feature.
HOW TO USE CANNED RESPONSES FEATURE?
Open your Gmail inbox and click on 'settings' option located at the top. Then click on 'Labs' tab and select enable for 'Canned Responses' option there. Now click on 'compose mail' button and write a message.
Click on arrow next to 'canned reponses' option. You can save your message by giving it a unique name. Similarly, while replying a message, you can select any already saved 'Canned response' and send it on the fly.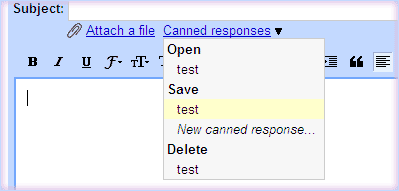 As pointed by Gmail blog, you can also use this feature to set up different automated messages for different keywords. This feature will make sending email easy while handling similar responses – and of course save time!