Flickr photo sharing website has tons of images. Search function on Flickr website can pull out relevant images of your choice. How about making this search little easy specifically for searching wallpapers?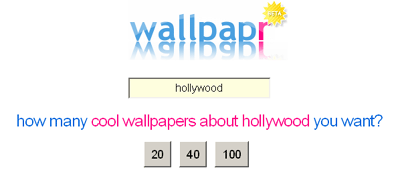 Wallpapr is a cool web app that can search wallpapers from Flickr on the fly. Enter the keyword for the wallpapers you want. Then click on either of button for 20, 40, 100 Wallpaper results per page.
Click on the any preview image and Flickr webpage containing the original wallpaper will pop up. Next step? Well, download and dress up your computer with the wallpaper of your choice.
Wallpapr – Click here to search Wallpapers on Flickr 
Make sure you check the license of resultant wallpaper image. Nothing revolutionary, but hey that ease factor is worth using this wallpaper search service, what say?