Archive (zip, rar etc) file is a good way to share collection of files in an easy and simple manner. However, things can get bit boring and time consuming if you have to unzip and open lots of zip files. Ideally, one would open each archive file one by one and see the contents.
ExtractNow is a cool free utility that allows you to open multiple archive files at the same time. So if you have 10 archive files to open – no need to repeat the same process 10 times in order to open archive files. Using this utility extract all 10 in one go by simple drag and drop.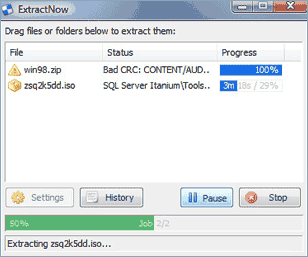 There are lot of options to configure and customize multi archive opening process like configuring destination folder and allowing utility to overwrite files or create separate folders. Download ExtractNow, a must have if you bump into lot of archive files on daily basis!