Do you have 7Zip archive file that should be converted to Zip file format? ArcConvert is a handy utility to convert archive files between different archive formats. It supports conversion among formats like: Zip, 7Zip, gZip, Bzip2 and Xz. It has simple and easy to use interface for quick file format conversion.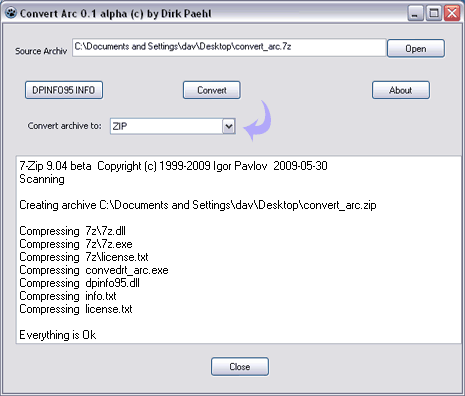 Use ArcConvert to convert Archive file format
1. Download ArcConvert, unzip it (will need 7Zip utility to unzip).
2. Double click to launch the converter, no install required.
3. Click Open button to select archive file on the computer.
4. Select output archive format form drop down box.
5. Then click on Convert button to get archive file in required format.
This utility can be very useful in converting 7Zip files into Zip file format -as zip is more common archive file format to extract as compared to 7zip.