Want to add "slow motion – slomo" effect to Youtube videos? Now you can easily convert existing normal speed video into smooth slow motion video. Youtube has added new "slow motion" effect filter to enhancement section of the online video editor. The slow motion effect makes video look like as if it was filmed using a professional high speed camera.
Slow Motion enhancement in Youtube video editor
1. Login into your Youtube account and goto Video Manager to see list of already uploaded videos. You can apply this effect to any existing video or upload fresh video for using 'slow motion' effect filter.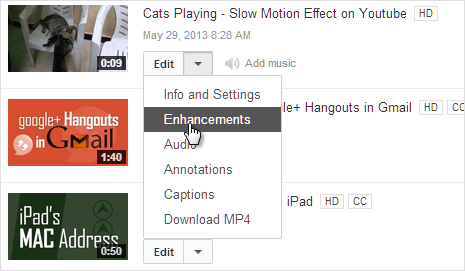 2. Click down arrow next to "Edit" option for any specific listed video. Then click on Enhancement option to open that video in online Youtube Editor web application.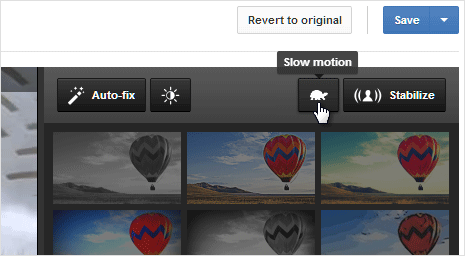 3. Click on Slow Motion button (turtle icon) at top right next to 'stablize' option. Then you should see percentage options like 100%, 50%, 25%, 12.5% for selecting amount of slowness that you want to add to the video.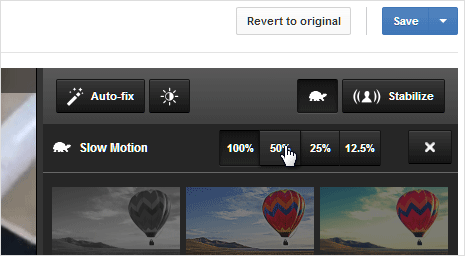 4. Click specific option and preview the slowed down video. Once you have selected the option as per requirement, click on Save button to apply the slow motion effect to the video.
Video: Apply "Slow Motion" effect to online Youtube videos
It takes time to render and process video with slow motion effect depending on length of the video. Ideally, it does take lot of time even for small videos of few seconds – so be ready to wait for while to see final slow motion video creation.
Sample example of "Slow Motion" Youtube video
As seen in above video, output isn't the best with blurry and smeared artifacts highlighted at lot of places in the video. If you do not have high speed camera, this effect for sure gives you taste of what your video creations look like in slow motion. Perfect incentive to upgrade to advanced video camera for more professional slow motion video recording output – what say? [via Youtube blog]