Need to find something on the internet? We just head over to Google Search website with its plain jane looks of white background and big search box. Besides this default interface, Google has number of special webpages hidden from eyes of an average user. These webpages on Google website are for special occasions and use. From exploring the vintage Google logo to special Google webpages, here is the low-down.
1. Vatentine's Day: Dancing Heart on Google website
Google Heart webpage is a special Google page for Valentine's Day. It shows animated red heart with cute messages like: I go Google over you, Be my Valentine, I love you.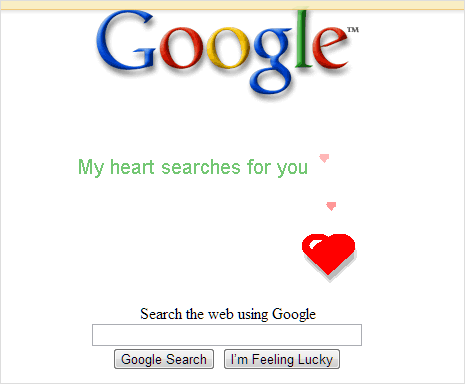 A click on floating heart trigger more effects like expanding heart, changing background color and design effects and much more. Though in current times, overall look may seem outdated but this for sure is nostalgia love.
2. Google MentalPlex for April Fool's Day fun
Google MentalPlex webpage use your mental frame of mind and provide automatic search result. Focus on the moving circular image and then click to see search results.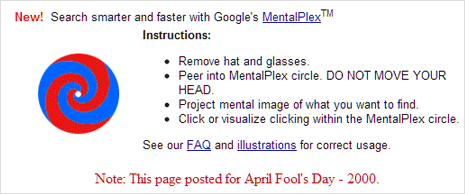 Of Course this is all prank and fun for April Fool's Day, way back in year 2000 from Google. Tickle your mental nerves Google style, like it?
3. Google Moms: For Mother Days celebrations
Google Moms webpage was originally available at [google.com/moms/] url but is no longer there. One can still see webpage by digging archived page for Google Moms at archive.org (wayback machine).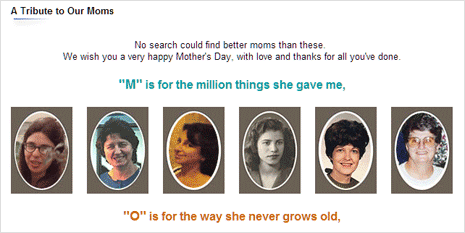 It aptly starts with: "No search could find better moms than these. We wish you a very happy Mother's Day, with love and thanks for all you've done." Then there is meaning to every alphabet in word "mother", head to Google Moms page to read all.
4. Britney Spears name misspellings in Google Search
Britney Spears webpage [originally at google.com/jobs/britney.html] shows some of the misspellings detected by Google's spelling correction system for the query [ britney spears ].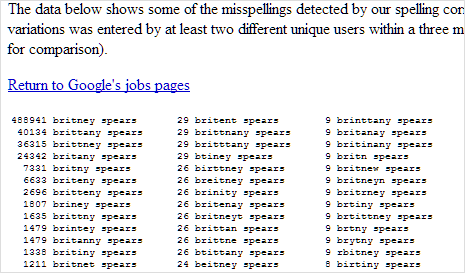 It displays the count of how many different users spelled her name that way and each of these variations was entered by at least two different unique users within a three month period.
5. More special webpages on Google website
– Google Doodles showcasing Google logos for special occasions.
– Google Friends Newsletter with listing of old newsletters.
– Google Search tips webpage for better searching.
– Google Zeitgeist for all search statistics over the years.
Besides these, there must be number of other special Google webpages waiting to be discovered. Need to do some Googling on that front. [Updated article, originally published in Aug 2007]