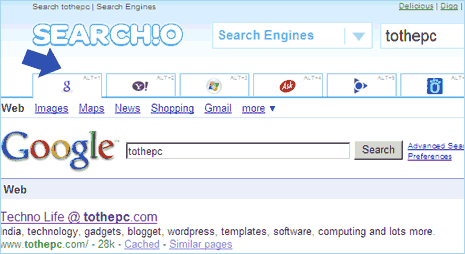 With IE7, Firefox and now Google Chrome – we are so use to tabbed browsing. How about searching the web in tabbed manner? Search.io is really cool search that allows you to search multiple search engines at the same time and view results in tabbed manner.
It has neat interface and works flawlessly as you jump between tabs in the same browser window featuring search engines like Google, Yahoo, AOL, Dogpile, Live, AltaVista, Clusty and AlltheWeb.
Besides power searching, this is cool way to compare results for a specific keyword spread over multiple search engines on the web. Checkout Search.io – isn't that cool?