Do you want to change or test themes on your WordPress Blog without visitors noticing the change? If yes, then you should install and enable 'Test Drive WordPress Plugin'.
Many times when theme is tested or played with, visitors on the front end can have real rough experience browsing the blog. To avoid this bad experience for visitors you can use this plugin to make theme changes seamlessly.
Theme Test Drive WordPress plugin allows you to safely test drive any theme on your blog as administrator, while visitors still use the default one. It happens completely transparently and they will not even notice you run a different theme for yourself.
You can even set the testing theme options (if it has them) in the Admin panel while you are testing the theme. You need to follow usual WordPress Plugin installation procedure for this plugin:
Upload the plugin folder to your /wp-content/plugins/ folder.
Go to the Plugins page and activate the plugin.
Use the Options page to set the theme you want to test drive.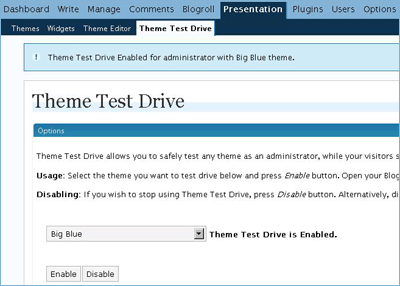 Theme Test Drive WordPress Plugin: Click here for info & Download 
Please note, you may need to disable WP-Cache plugin for this to work. So get set on theme test drive without worrying about any problem to blog visitors.