You have come across an interesting article or video or image and want to share with your visitors. Since it is only a link or short content, one tends to 'not to blog' about it. I am sure many of us are familiar with this situation.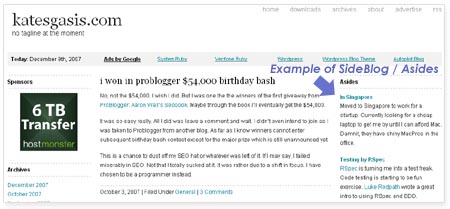 However, now you can set up a miniblog (or sideblog, sidenotes) using asides features in WordPress 2.3 You can display latest links of this mini blog on the sidebar and these link will not appear in usual sequential blog posts.
Also, these links will appear in the feed and you can display them anywhere on the blog. Clicking on any link with result in usual blog post page with little content, which can be a weblink/image or a video.
You do not need install any seperate wordpress install. On your existing WordPress 2.3 install, you need to install Sideblog plugin and configure it accordingly.
Sideblog WordPress Plugin: More Details – Download
So one cool integrated option to setup miniblog for main blog without another WordPress install. Traditionally many has been using another WordPress install (some say it tumble blog) to post small text, images and links as a part of a mini blog.
Things getting better and better in WordPress, that is why I love WordPress so much. [Image shot from katesgasis]