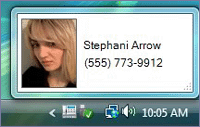 Ever wanted to check 'who is calling' while working on computer, rather than annoying quick grab for tiny phone?
Vista Caller ID is a free software that should come handy in this regard. It seamlessly integrates with Microsoft Windows Vista to track and announce incoming phone calls.
It uses your Voice or Data Modem and Caller ID service provided by your local phone company in order to identify who's calling. Basic features include:
Seamless Windows Vista integration with Vista aero effects.
Computer Caller ID informs you of who's calling before you answer.
Usefully tracks all incoming calls and logs Date & Time, and Caller ID Name & Number.
Checkout Vista Caller ID and  work at peace without the need to squint at a tiny phone display while at your computer.