'Facebook for iPad' application is a great way to check Facebook updates, photos, games and lots more on Apple iPad device. With the goodness of full screen photo browsing, games, nearby maps – there is constant annoying sound of chat and message alerts while using Facebook app on iPad. Thankfully, you can turn off and mute chat message alert sounds and vibrations on iPad.
Turn Off alert sound for chat messages on iPad

1. On iPad homescreen, tap on Settings icon. On the Settings screen, look for Apps section at bottom left part containing listing of applications installed on your iPad.
2. Tap on Facebook option to view associated settings for Facebook app on iPad. Look for options under "Chat and Message Alerts" section at the top.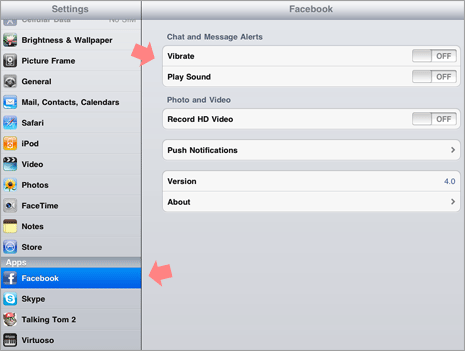 3. Move the slide to OFF state for Vibrate and Play Sound options. This will turn off and disable any sound or vibration during new Facebook chat messages and alerts.
After making above settings change you can check out latest messages and use Facebook chat in peace without irritating sound of new message alerts. Also, after usage – remember to logout from Facebook App on iPad to stay safe in multi user iPad environment.