Updating Facebook account is getting easier by the day. We have already seen, how to send photo and videos updates to Facebook via email. You can also update Facebook account by sending an SMS from your mobile phone. For this, you need to register your mobile phone number for respective Facebook account. To get going:
1. Login into Facebook account.
2. Hover over Settings & click Account Settings link.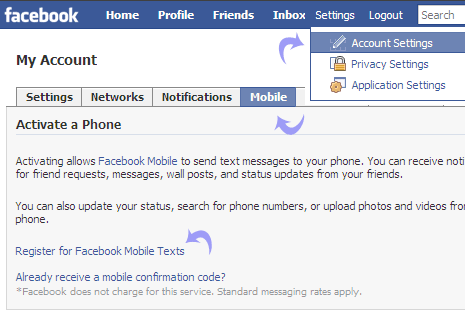 3. Click on Mobile tab on the settings page.
4. Then click on"Register for Facebook Mobile Texts".
5. Select your country, mobile phone provider & enter mobile number.
You will receive a confirmation code via SMS on your mobile phone. Use that code to activate mobile feature for your Facebook account. From here on, you can update your Facebook account status while on the move by sending SMS from your mobile phone. Mobile feature is only available in select countries and select mobile providers.