Google has lot of web services besides the basic Google web search. We can login and access different Google services using single Google account login. You could be using: Google Docs, Latitude, Reader, Picasa album and more through same Google account. Want to see your activity data stored by Google while you used different Google services through single Google account?
Google account data stored by Google
1. Goto https://www.google.com/dashboard/ to open Google Dashboard.

2. Then login into your Google account, like the one you use to access Gmail, Google Reader, Picasa and so on.
3. It will show basic data for different Google services being access through your Google account.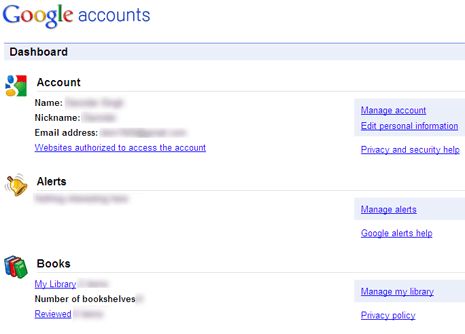 Data displayed by Google Dashboard
1. Basic profile and account information.
2. Google Alerts setup using specific Google account.
3. Number of Google Books in Library, reviewed or bookshelves.
4. Google Buzz posts, followers, following, connected URLs.
5. Listing of Google contacts & most contacted users.
6. Number of sent, draft, trashed emails in Gmail inbox.
7. Google chat and search history Picasa web albums and more.
Besides the single window interface for all the data for different Google services, it allows you to quickly access settings option for specific services to edit or delete data that you do not want Google to store.