No need to type or trying to connect with friends, just press a button and let the world know you have something to say. Loudtalks attempts to make voice communication over the internet more easy.
It is a little Windows based application, which allows you to talk to your friends or colleagues instantly with a single touch of a button. Think walkie talkie. It's faster than text chat and more convenient than calls.
Loudtalks is free and as makers insist will always be free. It also got the honour to be in TechCrunch Top 40 hot new startups. The application download is less than one MB in size and installation is very easy.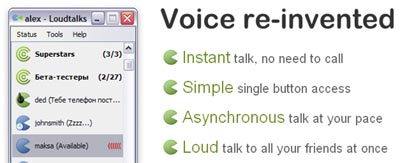 Loudtalks: Website – Download – Quick start guide
Loudtalks Quick start guide explains all in detail. There are few basic things that you need to know, like once user is blocked it cannot be unblocked, shortcuts keys and much more. So make sure you read Quick start guide.