The royal wedding of Britain's Prince William and Miss Catherine Middleton take place on Friday, April 29, 2010 at Westminster Abbey. Lot of people will be present at the venue to join celebrations of the royal wedding of 2010. If you are not lucky enough to be invited for the wedding, you can catch the live broadcast of wedding on your computer. The royal wedding will be streamed live on internet for viewers throughout the world to catch glimpse of celebrations in a virtual way.
Royal Wedding live on Youtube website
1. Bookmark and make sure you visit the official channel at youtube.com/theroyalchannel to view live telecast of royal wedding online on Youtube website.

2. The live stream will begin at 10:00a BST (9:00a GMT, 2:00a PT, 5:00a ET) on Friday, April 29, and will follow the wedding procession, marriage ceremony at Westminster Abbey and balcony kiss.
3. The official royal wedding channel will also feature commentary and provide other timely insights to royal wedding celebration. So besides the visual display, you can view and discuss other profound details of the wedding tit-bits.
4. Wedding guest book is also present on Youtube's royal wedding channel. Users can upload their videos congratulating couple through the wedding book section at the top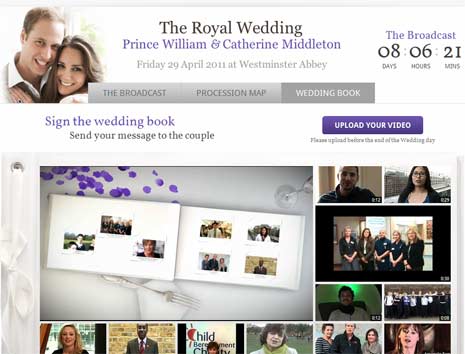 5. If you are in different time zone and could not catch the live footage – you can view it all afterwards on the royal channel on Youtube. The entire footage will be reshown following the event and will be available in full on the site for viewing at later time.
6. You can also view procession map on the official Youtube channel for royal wedding to learn more about the route of the procession. Just click procession map button at the top of the webpage to get going.
If you want more, then check official website of the royal wedding at officialroyalwedding2011.org – there is lot of information to keep you glued with upcoming royal wedding of 2011.