Facebook Graph Search is slowly being rolled out to all English language Facebook users. Few users hate this new Facebook Graph Search feature and even managed to remove Facebook Graph Search from their Facebook account (temporarily though). New version of Graph search offer lot of improvements allowing you to better discover stuff on Facebook related to your friends and other Facebook users.
Use Facebook Graph Search box for web search by Bing
When Graph Search is activated on your Facebook account, you should notice big search box at top left part of the Facebook website. You can use this box for searching information related to your Facebook friends and public content posted by other Facebook users.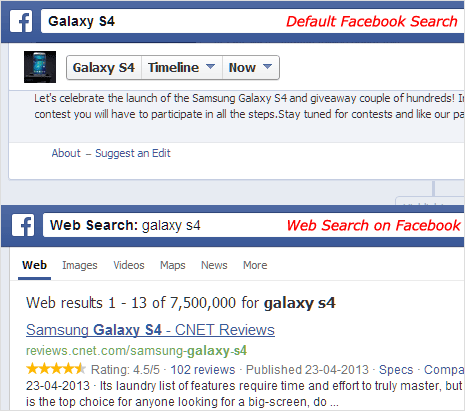 1. You can also use this box to web search about anything. By default, if you type any search query say "Galaxy s4" – graph search will open matching content available on Facebook (like Galaxy 4 page on Facebook).
2. To automatically web search bypassing Facebook content, just add "web search:" in front of the search keyword. So instead of "Galaxy s4" type "Web Search: Galaxy s4" in the Facebook graph search box to automatically show web search results powered by Bing Search.
Video: Internet Search using Facebook Graph box
This is a handy tip for regular Facebook users who want to web search from Facebook website. Since, Facebook will push graph search feature (like timeline) to every user in coming weeks – knowing this handy tips makes graph search box more useful.