HD (high definition) video viewing on Youtube provide best experience. If you are using high speed internet connection, then you should play Youtube videos in HD quality (720p or 1080p) for best clarity. Problem is, one has to constantly switch video quality setting from normal to HD for every video playback. This takes lot of time and annoying to the core.
Change Youtube settings to always play HD quality videos
1. You can set video quality settings in Youtube account to HD. So everytime you play a video full screen, it will swtich to HD quality mode. But for this to work, you should be logged into Youtube account while watching videos.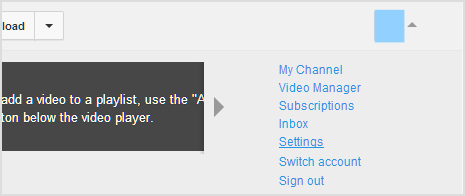 2. Login into your Youtube account, click on Profile photo at top right and then click on Settings option. On the Settings page, click on Playback option on the left side.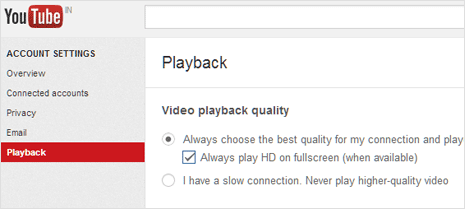 3. Click to check "Always choose the best quality for my connection and player size" option and also check " Always play HD on fullscreen (when available)" below. Click Save to confirm changes. Once above setting is saved, Youtube will swtich to HD video quality for videos available in HD format.
Problem with this method: Working of this depends on how youtube detects and evaluates your internet connection speed. In many cases, Youtube does not switch to HD quality even though you are using high speed internet connection. Also, it only works when you are logged into Youtube account. To take care of scuh issues, check the next section.
Video: Enable HD video settings in Youtube account
Force Youtube for HD quality videos without account login
Above method only works when you watch Youtube videos while logged into your Youtube account. To make sure Youtube always playback videos in HD quality, Google Chrome users can install Auto HD for Youtube extension.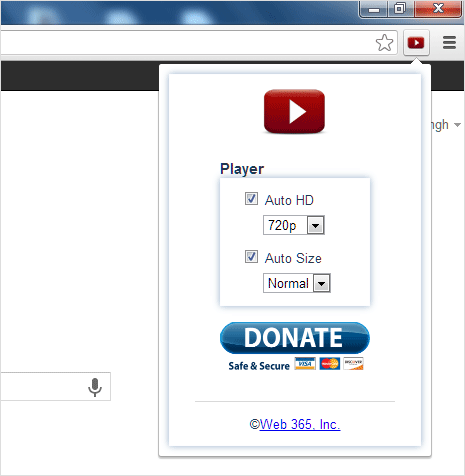 Once you enable this extension, you should see small Youtube logo at top right part of the Chrome browser. Click that Youtube logo to configure settings for video quality and video playback window size.