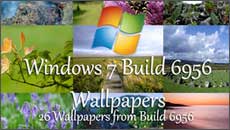 We have seen loads of Windows7 wallpapers before [Set-I and Set-II] and here are more to add color to your desktop.
These wallpapers are by Mheltin at DevianArt, taking inspiration from upcoming Microsoft operating system Windows7 (build 6956).
Wallpaper pack contain 26 colorful wallpapers from mountains to natural scenic shots. Wallpapers are available in two screen resolutions of 1920×1200 and 1024×768. Here is preview of wallpapers in the pack.

Click here to download pack [17.5 mb] of 26 colorful Windows7 wallpapers. For sure, seven heaven on the desktop!