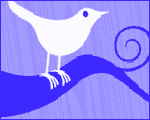 Twitter is hugely popular and used for micro-blogging (form of blogging that involves brief text updates, usually less than 200 characters).
At times Twitter goes down, causing frustration to ever so loyal Twitter addicts.
Well, you can give Twiiter little rest and tryout few Twitter alternatives. You may even find some of them a better heaven to 'Twit Twit.'
1. Tumblr – Post anything, customize anything – a quick way and easy way to share yourself. It is very simple and allows sharing of text, links, photos, videos etc.

2. Pownce –It is very similar to Twitter and infact has more features than Twitter. You can share links, files and events. Also relish Pownce themes.

3. FriendFeed –Even though it is not a full flege micro blogging service but with huge user base and ability to share FriendFeed lifestream, it feels like Twitter all the way.

4. Jaiku – Another cool tool for micro-blogging which now belongs to Google. You can create your activity stream with customized look and feeds. Follow your friends, their updates and add comments.

5. BeenUp2 – Name says it all. Express and explain yourself with beenup2 by posting pictures and videos from your camera phone while your friends and family chit-chat about it live.

6. MoodMill – MoodMill is about expressing and sharing your mood with others. It's a personal mood management, a log, a quick and easy website for managing and sharing your short logs with your contacts.

7. MySay –Instead of typing talk to friends with MySay. Leave your message about what your are doing? Your friends can listen to messages and share their own ramblings via MySay.

While Twitter addicts would still love to use Twitter, above option are worth a try when Twitter goes down. Micro-blogging is all about telling about you and your activities. How about calling your friends, going to club, attending a party? These alternative for sure sound interesting, what say?