ePub is a popular format for ebook files. There are number of tools to create epub files from webpages, PDF and conversion of other type of documents into epub format. You can also perform CBR, CBZ conversion into epub format for converting comics into epub files. Each epub file has basic information (also called metadata) including: title, description, creator and so on. Do you want to view, edit, delete or change this basic meta data details of an epub file on your Windows computer?
Download ePub meta data editor software tool
1. ePub meta data editor is a free tool for Windows users to view and edit metainformation of epub files. It has neat interface displaying all basic meta details of any selected epub file.
2. You can view and change details like: title, creator, description, series, publisher, date, type, format, indetifier, source, language.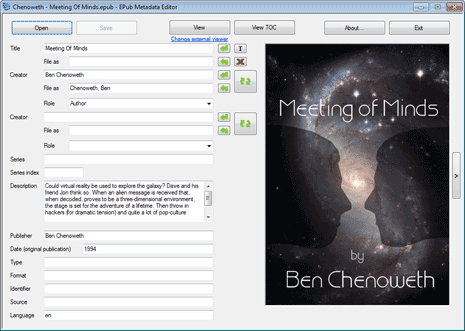 3. It allows you to easily change the displayed cover imageof specific epub file. Just right click on the displayed image and then click 'Change Image' option for use different photo as cover image.

4. If 'table of contents'is available in epub file, you can simply click 'View TOC' button and program will load table of contents in neat manner.
5. You can use this program for basic editing of OPF and TOC.NCX file. It supports batch mode editing for certain tasks like: copy 'file as' to creator, auto generator creator ' file as', apply title case to 'title', clear title 'file as'.
This tool is ideal for quick editing of epub meta data information. With simple user interface, Windows users will love it for performing boring task meta data editing quickly.
Download Sigil : advanced meta data editor for epub
If you are looking for an advanced tool for meta data editing on Windows, MAC or Linux platform – then Sigil is best option. Sigil tool is a free and open source WYSIWYG ebook editor that is designed to edit books in ePub format.
1. It has full unicode and epub spec support. It also supports WYSIWYG editing and is a multi platform tool for Windows, MAC and Linux users.
2. It packs in lot of options and features for epub editing. User interface support different view types for custom editing including: Book View, Code View and Split View.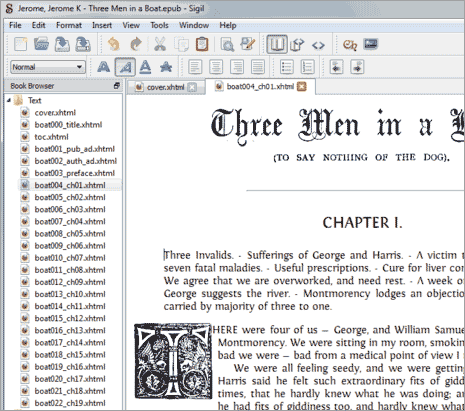 3. Meta data information editor provide support for more than 200 metadata entries along with their full description. It also has table of contents editor with support for multi-level TOC.
4. It has SVG, XPGT support. Book View fully supports the display of any XHTML document possible under the OPS spec. Also, you can directly import HTML, TXT and ePub files into the application for data editing and modification.
If you are looking for robust and advance program for ePub files meta data information editing, then Sigil is a handy tool wheather you are a Windows or MAC user.