Majority of ebook reader like Apple iPad support EPUB format for ebooks. Do you want to read your favorite comic on an ebook reader? You can easily do that by converting comics in CBR or CBZ format into EPUB ebook format. You can download free Comic to eBook converter tool for such conversion quickly with ease.
Create EPUB ebooks from CBR / CBZ comics
1. Download Comic To eBook converter utility. Unzip and double click to launch it. It is a portable utility and does not require any installation.
2. Goto File > Import Comic and select CBR or CBZ format comic file.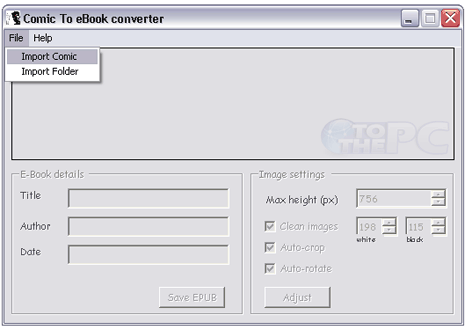 3. Then enter title, author and date details. Click "save epub" buttonto convert and save comic file in EPUB ebook format. You can also configure Image settings to make adjustments.
Besides above, there are number of other tools to convert and create EPUB ebook files from different types of text and image content.